Each week I'll bring you a mix of DFS value plays that I like for cash and tournament games. I won't be focusing too much on the elite plays such as Christian McCaffery, Lamar Jackson and Michael Thomas instead, I'll look for value in matchups that have the potential to be high scoring and return good points to dollar ratio. If we can find that we can open up our lineups to be built better. Through the season I'll also review my previous weeks plays so you can judge for yourself how good my takes are.
Tom Strachan
@BestBallUKNFL
Week 15 Review
Going into week 15 I remarked that it felt like a 'play your studs' week and that rang true with three of the top five running backs, being the three most expensive (Cook, Henry and Jones). The value did shake out of the middle and lower tiers however and we had a strong week to get back into form. At quarterback, Jalen Hurts (40.82), led the way and topped all scoring for the week. Meanwhile, Phillip Rivers and Dwayne Haskins both scored enough points to justify their plays at their prices. Jared Goff was surprisingly bad against the Jets but still came close to the three times value we're after (16.26pts).
At running back J.K Dobbins had a nice day with 15.1 points. Gus Edwards didn't quite get there, managing 9.8pts, but it was great to see him involved in the passing game with a 38-yard reception. Kenyan Drake stung us badly when he picked up a knock, finishing with just 6 points. That play probably cost me a large chunk of profit on Sunday! Leonard Fournette wasn't somebody I was confident in but I wanted to make sure you all knew the pro's and con's and he exceeded my expectations with 21.5pts. David Johnson became a late addition to the column with Duke Johnson out and that turned out to be one of the best plays of the week as he racked up 11 receptions and a total of 27.3 points.
Receivers were a steady set of picks with only Marquise Brown (15.8), and Russell Gage (17.8), hitting triple dollars to points value. Hilton, Chark and Godwin all got close but couldn't quite manage it. Finishing up at the tight end I had a poor week with Gronkowski failing to get to 6 points. Dan Arnold did okay managing 8.4 at reasonably low ownership and despite the Rams struggles Higbee saved the group and hit 16.7.
All in all the plays were there and if you built your lineups around the right studs and stacks, you could have had a very nice week.
Plays so far this season (based on price to points ratios):
Great plays: 92 (45%)
Good plays: 68 (33%)
Bad plays: 45 (22%)
Week 16 Picks
Just a quick reminder before we jump in that though your fantasy playoffs may be over, we'll still be here as long as there's football being played. The NFL playoffs offer less value typically, but there's plenty of interesting nuggets to learn about the matchups and I'll still be here trying to find those for you. This week a lot of the plays come from a small range of matchups and I wouldn't necessarily feel comfortable stacking all of these. Remember we're trying to find building blocks to get us to the high-value plays. 
Quarterbacks
Baker Mayfield @ Jets – $6100
Browns -8.5 favourites
47.0 over/under
In week 12's column, I mentioned that Mayfield's cupcake matchup with Jacksonville looked like the perfect time to get the quarterback throwing more. That has shown to be true with Mayfield averaging 25 completions per game in the four-game stretch that started there, as opposed to 14 per game in the previous four. Mayfield who has played his best football since his rookie year in that stretch and is the fantasy QB4 over the last four weeks gets another easy looking matchup as the Browns continue their playoff push. Despite last week's surprise victory over the Rams the Jets are still a fundamentally poor defence allowing 25.14 fantasy points per game and eight top twelve performances to the position. He's a little on the pricey side for me, but it's definitely in play.
Jared Goff @ Seahawks – $5900
Seahawks -1 favourites
47.0 over/under
There's no doubt that people expected more from Goff against the Jets in week 15. Fortunately for him, he gets a bounce-back spot in a very important divisional game. The winner of the Rams trip to Seattle will likely be the division winner and gain favourable playoff seeding. The Seahawks defence has looked better on paper lately, but their last four matchups have been against the Eagles, the Giants (without Daniel Jones), the Jets and Washington. I feel it's fair to say that's not the toughest stretch and they can expect a firmer test this week. Seattle has allowed eight top twelve games to the position, which ranks joint-worst in the league. Their defence allows the most attempts per game (42.43), the most completions per game (28.64) and importantly for Goff's hopes of the 300 yards 3pt bonus, they give up a league-worst 307.43 yards per game. If you want exposure to a game with the potential to shoot out this might be the choice. I like the idea of stacking Goff, Woods and bringing it back with D.K Metcalf.
Matt Ryan @ Chiefs – $5800
Chiefs -10.5 favourites
54.0 over/under
Ryan is coming into this game on the back of his second 30+ point total of the season. Despite the Falcons being dead and buried they've continued to provide us with fantasy-relevant weeks and my Calvin Ridley shares appreciate it greatly. Matt Ryan has let us down in several reasonable spots this year and for that reason, I couldn't advocate this play in cash, but in tournaments where stacking is more important, I see reasons to like it. The number one ranked offence led by Mahomes faces the worst defence against the pass. The Chiefs lead the league in pass rate above expectation (h/t Michael Leone: @2hats1Mike) and seemingly don't have an interest in establishing the run. This leads to quicker drives that don't take time off the clock and can give Atlanta more opportunities to strike back against a Kansas defence that averages the 8th worst touchdown rate per game (1.71 per game).
Andy Dalton v Eagles – $5500
Eagles -2.5 favourites
50.0 over/under
This marks Andy Dalton's fourth appearance in this column this season and I continue to feel like we can find value in a quarterback surrounded by such weapons. Since the week 10 bye Dalton ranks ahead of wannabe comeback player of the year, Ben Roethlisberger, in fantasy points. In those five games, Dalton has thrown multiple touchdowns in all but one. Now he faces an Eagles team that has allowed a joint-worst nine top 12 quarterback performances. Jalen Hurts will attract more ownership on the other side of the matchup and choosing which receivers will hit big for Dalton is occasionally challenging, but I like the game and with somehow there still being a playoff spot on the line, it could get interesting.
Drew Lock @ Chargers – $5000
Chargers -3.5 favourites
49.0 over/under
I'm not a big fan of Drew Lock and despite some weeks having over twenty different lineups, I don't think I have played him once this year. It's a little hard for me to ignore his price though. Tyrod Taylor, who will be on the opposing bench and hasn't played since week one is $300 more expensive than Lock this week. Despite the nice passing game options around him Lock has failed to progress as we'd hope with seven games under 15 points. The other games, however, have seen him score as high as 33.2 and also included a 20.8 point return against the Chargers in Week 8. The Chargers defence hasn't lived up to the team's hopes, starting with losing Derwin James before the season began. Joey Bosa is struggling through his second concussion in the space of several weeks. The defence ranks 25th in fantasy points allowed to the position and ranks bottom six in rushing yards allowed to quarterbacks and second-worst in rushing touchdowns allowed to the position (0.50). Lock isn't known for a dual-threat ability but he did put up 37 yards on the ground in week 15. This is a real punt play and can only be recommended in tournaments.
Running Backs
Antonio Gibson @ Panthers – $6600 (or J.D McKissic – $6400)
WFT -1 favourites
43/5 over/under
The Panthers season has steadily gone down the toilet with three consecutive losses and with nothing to play for, it's hard to see them standing up to a Washington team that few envisaged as being this competitive at this point in the season. Only seven other teams give up more points to fantasy running backs and with continuing issues (both off and on the field), Washington would be wise to rely on their run game. Gibson returned to practice on the Friday before Week 14, before being ruled out and on Wednesday through Friday of this week he was a limited participant. He should have a much better shot at returning against Carolina. Before suffering turf toe, Gibson had averaged 23.25 DraftKings points per game over his previous four games. It's not a given that Gibson plays, but if he does at a suppressed ownership I'll be looking at him in tournaments. If Gibson can't go, McKissic at $6400 looks great. He's slowly absorbed more and more of the work with Gibson out and if Alex Smith is back, the Mckissic angle becomes even more promising with Smith loving the check-down option.
J.K Dobbins @ Giants – $6200
Ravens – 10 favourites
43.5 over/under
It's no sure thing that Mark Ingram is a healthy scratch for a second consecutive week but it really shouldn't matter. The Ravens have turned the majority of backfield touches over to Dobbins and Edwards and Dobbins has shown he is the first choice. Over the last four weeks, Dobbins ranks as RB20, despite having missed an entire game due to Covid-19. In the three matchups that he's played in, he's averaged 14.5 points per game and has a touchdown and 50+ yards in all of them. Due to the nature of Lamar Jackson's play, Dobbins doesn't see many receptions but this week's matchup could change that. The Giants defence ranks 17th overall but is by far the worst defence in the league against pass-catching backs. They rank 32nd in targets (8.07), 31st in receptions (6.43) and 30th in yards (48.64). Normally when a team's defence is so bad against one aspect of a game, it's down to scheme. Without a clear history of Dobbins being involved in the passing game, this is a purely speculative theory but the ground game and touchdown's give Dobbins a solid enough floor to keep him in play and the possibility of more receptions could lead to an eruption spot.
Le'Veon Bell v Falcons – $5800
Chiefs -10.5 favourites
54.0 over/under
Bell will be a popular name on waiver wires and DFS columns this week as he gets a chance to show what he can do as the lead back in Kansas. With Clyde-Edwards Helaire ruled out until the playoffs at least, Bell gets an average matchup against the Falcons. Despite their troubles against the pass they remain solid defending the run, ranked 5th overall. Much like last week's Leonard Fournette play against the Falcons, where he scored 21.5 points, this play comes down to opportunity and cost. A potential three-down running back at $5800 in an offence that likes to throw the ball, including to their running backs. Bell has seen multiple targets in three of his last four games and the Falcons defence allows the sixth most receptions to the position.
David Johnson v Bengals – $6100
Texans – 7 favourites
46 over/under
Let's start by saying it's unlikely Johnson has eleven receptions again. Deshaun Watson has never been one to target his running backs so heavily but maybe Johnson sees a more steady and appropriate amount of targets going forward. On the year Johnson has just 16 if we exclude Sunday's game against the Colts. The Texans don't have much to play for but neither do the Bengals with both sides rating poorly on defence this game could have potential for scores to run up and maybe even lower owned stacks. The Bengals rank 24th against the run and it's clear that their defensive strength (used loosely), is through the air. If this pushes Watson into handing or dumping off more often, Johnson could easily reach 20 points. As of Thursday, Duke Johnson still hasn't practised so the keys to the car remain David Johnson's for now.
Darrell Henderson @ Seahawks – $4500
Seahawks -1 favourites
47.0 over/under
If you're not wild about my suggestion of Jared Goff against the Seahawks maybe Henderson will be more tempting. Cam Akers has been ruled out with an ankle injury and at $4500 Henderson deserves our attention. Before Akers broke out the backfield was a bit murky, but each time Henderson was given over ten carries he turned them into fantasy viable days. At this price, you're looking for at least 14 points from Henderson and the Seahawks run defence sits pretty middle of the pack, ranked 17th. It's not a play I'm wild on but if you're after salary saving and exposure to a game that could be high scoring, Henderson has the potential to do that for you.
Ito Smith @ Chiefs – $4000
Chiefs -10.5 favourites
54.0 over/under
On Monday Raheem Morris announced that Smith would be the 'lead runner' for the team for the time being. It's not hugely surprising as Smith has out-carried Gurley 25-15 in the previous three games. Unfortunately for us, this isn't the gold sealed free square we love to play at this price as Smith hasn't shown a lot in those games. He is currently the only Falcons back to have a contract beyond this season, so it makes a lot of sense that the organisation wants to see what Smith can do with opportunity. The Chiefs have allowed ten top 24 performances to running backs and rank 21st against the position. It'll be surprising if Kansas doesn't score a lot of points and that could take away the game script from Smith. If he gets to double-digit points it will probably involve touchdowns and I'm not in the business of counting on that for cash games. Much like the Henderson play, this is about potential opportunity and price, that helps get exposure to a high scoring game.
Devine Ozigbo/Dare Ogunbowale v Bears – $4000
Bears -7 favourites
47.0 over/under
Another almost good type of play comes with Pro Bowl snubbed James Robinson looking set to miss out. The Bears represent fairly tough competition ranking 10th best against the position, and it's hard to imagine the Jaguars will be able to put up too much of a fight against them. The Bears have given up a total of 12 top 24 games to the position, but a lot of that has come in games they were outmatched. Robinson has been the Jaguars offensive star this season and to expect similar production wouldn't be fair. It's a punt play to open up salary elsewhere and I'm not sure it's worth touching unless we get a clear indication one back is favoured over the other. If you were looking to correlate a play against Allen Robinson these are reasonable choices.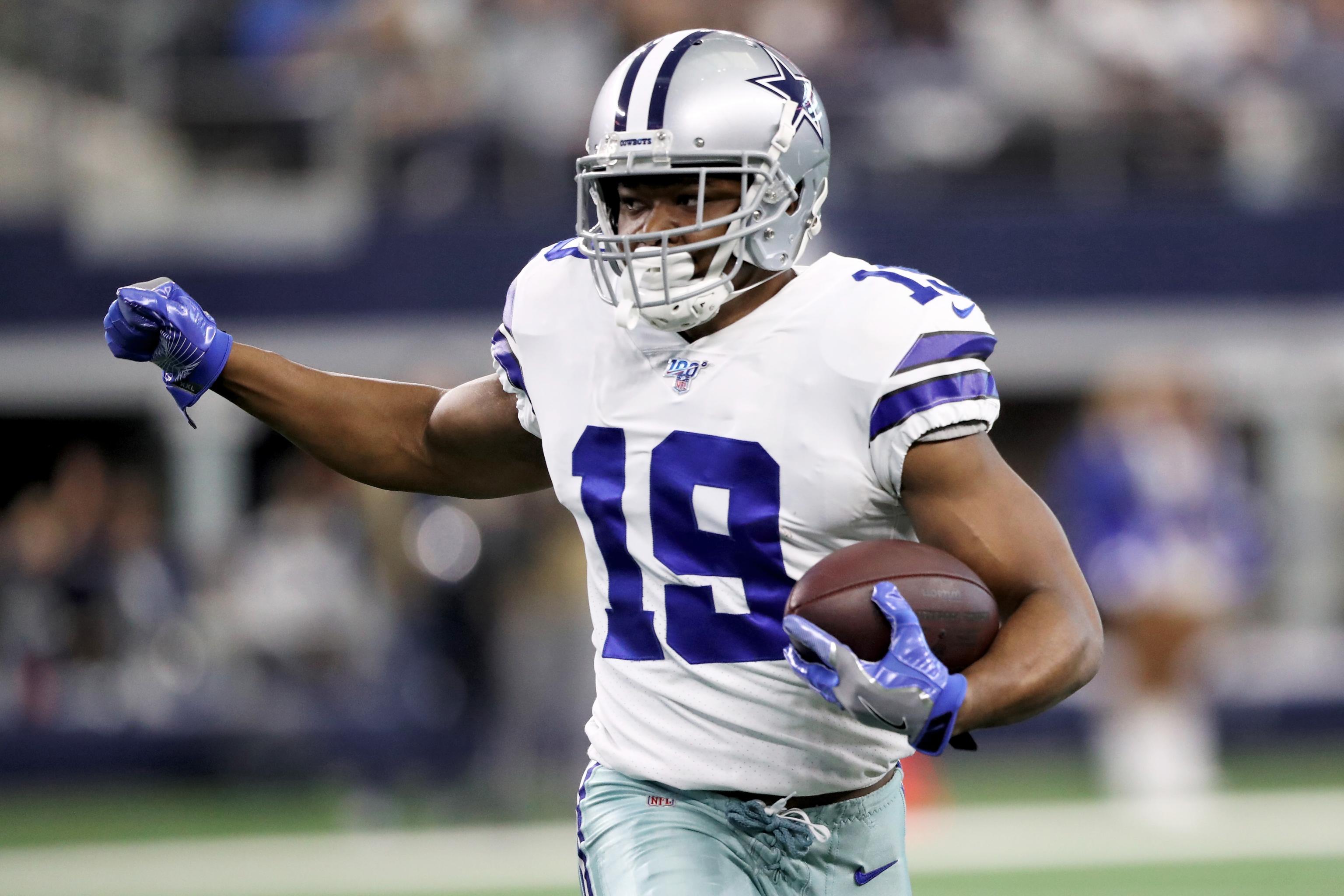 Wide Receivers
Amari Cooper @ Eagles – $5700
Eagles -2.5 favourites
50.0 over/under
I'm not sure too many people would have expected Cooper to return just 2.3 DK points in a game where the Cowboys scored 41 points. If we remove that score, Amari has averaged 18 DraftKings points per game over the previous four. Despite up and down quarterback play Dalton has managed to keep Cooper fantasy relevant this season and he currently stands as the WR13 in PPR. Over the last four weeks, the Eagles have allowed four top 24 games to the position and continue to struggle with injuries in their secondary, which ranks 20th worst in the league against the position. Jalen Hurts revival of Philadelphia gives the game a better chance of retaining a positive game script and developing into a shootout.
Russell Gage @ Chiefs – $5100
Chiefs -10.5 favourites
54.0 over/under
Last week we were on Gage at $4700 and he delivered us 17.8 DraftKings points in return. On paper, he meets a tougher defence in the chiefs, as they rank 3rd overall against the position, but in the last four weeks, they've allowed a joint-second worst four top 24 performances. Over Gage's last five performances he's averaged 8.4 targets per game and has averaged 14.18 DraftKings points in that stretch. The Falcons ruled out Julio on Friday, pushing the value of this play even higher.
Rashard Higgins- $4800 – @ Jets
Browns -8.5 favourites
47.0 over/under
Against the Giants, Higgins failed to score a touchdown for the first time in three games, but he still picked up four receptions for 75 yards to lead the team in yardage. Higgins has established himself as the number two option behind Landry, with Peoples-Jones ($3700), the third receiver. Their targets since week 9 are Landry – 45, Higgins – 34 and Peoples-Jones – 13. The Jets are in a poor state at cornerback and safety, giving up the fifth-most yards per game to receivers (186.57), along with the fifth-worst touchdown per game average (1.14). Higgins is the WR21 in the last four weeks. Cleveland is susceptible to slot receivers, so if you're looking for a correlated play perhaps you'll be interested in my next suggestion…
Jamison Crowder v Browns – $4500
Browns -8.5 favourites
47.0 over/under
$4500 for Crowder? Back in week six if you'd have told me that a receiver averaging 11.5 targets per game would come at this price I'd have assumed he was coming off a suspension or similar. Crowder hasn't been as consistent as he was in 2019 but he has started to show a sliver of that dominant slot receiver skillset over his last few games. In the last four games, Crowder has averaged six targets per game and went for two touchdowns against the Raiders. Against the Rams, in week 15 Crowder saw a team-leading 29.6% of the target share. Cleveland allows an average of 14.7 fantasy points per game to slot receivers, whilst also giving up the sixth-most targets per game to receivers (21.43), and the joint fifth-worst touchdown average per game to the position (1.14). If you're playing Jets receivers you're assuming an element of risk in exchange for salary relief and whilst Crowder is the most expensive of them, he also has the safest floor.
Chad Hansen v Bengals – $4400
Texans – 7 favourites
46 over/under
I'm still hurting from the Will Fuller fiasco. <insert gif of Obi-Wan Kenobi 'You were the chosen one!' etc etc.> Chad Hansen has seized his opportunity in Fuller's absence and despite none of us knowing who he is, the former California Golden Bear has finally made an impact in the NFL on his sixth team. Over his three games since Fuller's suspension, Hansen has seen 17 targets, resulting in 212 yards and one touchdown. Those scores have been 18.1, 12.6 and 13.5. Only two teams in the NFL give up more 20+ yard receptions than the Bengals and that could play to Hansen's strength's with Coutee and Cooks playing closer to the line of scrimmage. With Monday night's surprise outcome for the Bengals against the quickly fading Steelers, don't be surprised if Houston players are slightly less-owned. I doubt the Bengals get themselves up for this game in the same way as they did against a division rival and I'll be happy to stack the Texans in tournaments.
Darnell Mooney @ Jaguars – $4000
Bears -7 favourites
47.0 over/under
The Jaguars find themselves in an unexpected spot with the chance to draft Trevor Lawrence. All they have to do is lose two more games and it's theirs for the taking. Against the Ravens the Jaguars managed to let bit-part players such as Dez Bryant and Miles Boykin score touchdowns, in week 16 Darnell Mooney should be very ready for his chance to get into the paint. Over the last four weeks, Jacksonville has allowed five wide receivers to put up top 24 numbers and on the season they average the seventh most receiving yards to the position (180.29), and the fourth-worst average touchdown rate (1.21). Mooney ranks as the WR28 over the last four weeks, ahead of the likes of JuJu Smith-Schuster, Cooper Kupp and Robbie Anderson. Mooney has scored touchdowns in back to back games and has 22 targets in the last four games. 
Tight Ends
Evan Engram v Ravens – $3900
Ravens – 10 favourites
43.5 over/under
This play hinges a little on the availability of Marcus Peters and Jimmy Smith for the Ravens. Both corners haven't practised before Friday and both missed out against Jacksonville due to injury. Smith, in particular, has matched up with tight ends recently. I also would feel more confident about this play if Daniel Jones is healthy and he seems to be trending in the right direction. Despite Jones missing time, Engram has maintained some level of floor over the last four games, ranking as the TE12. I'm high on this play partly because I believe that in a week where Engram's Pro Bowl position was scrutinised, many people will avoid playing him but if we look back before Daniel Jones started having injury issues, Engram was playing fairly well and averaging almost 13 DK points per game. The Ravens allow the 8th most catches to the position (5.29) and in their last four have averaged 5.5 catches allowed for 58 yards (about 11.5 DK points). It's not amazing but the Giants have shown a desire to push the game towards Engram at times and if you're interested in Lamar, or Ravens running backs, correlating that play with Engram may pay off in tournaments.
Donald Parham v Denver – $2500
Chargers -3.5 favourites
49.0 over/under
Surprisingly the Broncos rank well against the tight position with an overall rating of 8th best but with Hunter Henry on the Covid-19/reserve list, Parham becomes the best-priced punt play at the position and one I'll be all over. Parham has seen 13 targets on the season and turned them into 5-75 and two touchdowns. Parham was widely seen as one of the most talented tight end's in the XFL and with Virgil Green on IR, Parham is the only rostered tight end with more than one catch. The Broncos haven't given up many touchdowns to the position but Herbert has shown he trusts Parham in the end zone and at this price, that would be all we need against a beaten up Denver secondary.