With several games being played outside the traditional Sunday evening window there is a smaller pool to pick from but I'm confident I have found a winning group this weekend. My selections are below, good luck to anyone playing DFS in the last weekend of NFL action before xmas.
---
QB – Lamar Jackson $7,500 – The Ravens have finally realised that they are what they are. A run heavy team which is at their best when they allow Lamar to do what he does best. It was so successful last year that it is almost puzzling as to why they went away from it but with their playoff hopes hanging in the balance they are finally getting back to the ground attack. Lamar gashed the Browns on Monday night, having 2 trips to the endzone in the process. The odd big play through the air also helped his overall production and against a weak Jags defence I expect more of the same.
RB – Jonathan Taylor $7,200 – If you were patient enough in regular fantasy to ride Taylor all the way to the playoffs then your decision is paying off. No such concerns of course in DFS but the principal of Taylor getting a combination of easier looking opponents and growing in comfort level to a new environment still rings true. His best fantasy day of the season last weekend could be set for a repeat as the lowly Houston run defence comes to town in a game that th Colts really should dominate, allowing plenty of opportunities for Taylor's continued improvement to shine.
RB – Jeff Wilson Jr $5,100 – There are always plenty of carries to go around in a Kyle Shanahan backfield so I take a bit of a punt on Jeff Wilson jr here. Technically slated as the backup to starter Raheem Mostert, Wilson only saw 4 less offensive snaps against the Football Team last weekend and importantly, saw the short yardage goal line work. He has had 33 touches over the past 3 weeks. A Dallas defence that has given up the most yards per game on the ground in the league should provide ample opportunities for Wilson to add to his 5 rushing scores on the season so far.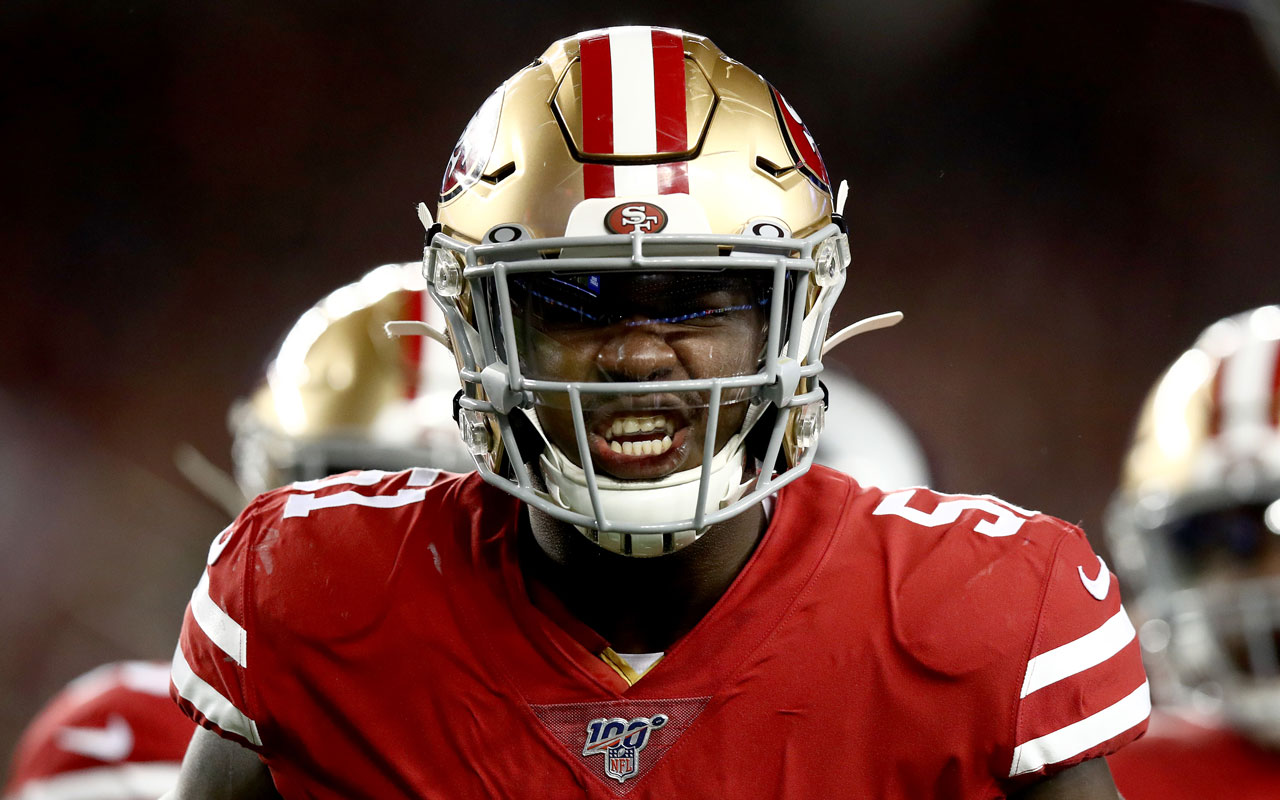 WR – Cooper Kupp $7,000 – The Rams have transitioned to more of a running attack in recent weeks but the Jets should provide more opportunities in the passing game for Jared Goff and company. When the Rams do go to the air, then make no bones about it, Kupp is the guy they turn too. He has turned his 14 targets over the past 2 weeks into 13 catches, 106 yards and a touchdown which illustrates the high floor that he always operates from. The Jets rank 31st against the pass comparted to 12th against the run, the only concern could be like Seattle a week ago, will Kupp be pulled in the 3rd quarter with this game already out of hand?
WR – Russell Gage $4,700 – Gage has been a really nice piece of the Falcons puzzle this season. He has a 5 catch, 82 yard performance on Sunday against the Chargers whilst also adding a beautiful 39 yard passing touchdown. The Bucs defence provides the opposition this weekend and although the defence is much talked about, against the pass they have been less than stellar. Surrendering the 9th most fantasy points to opposing wideouts look for Gage to once again be a big part of what the Falcons do, particularily with Julio Jones and Calvin Ridley battling injuries.
WR – CeeDee Lamb $4,500 – Lamb was quiet last weekend, but to be fair the Cowboys played ball control offence in a blow out against the Bengals. In a game where running the ball could prove much more difficult against a stout 49ers defensive line, Lamb will look to get back to the form he was displaying earlier in the season. His price has now dropped back to what it was at the beginning of the campaign so he provides a value option this weekend in a passing game that will need to produce this weekend to keep the Cowboys competitive.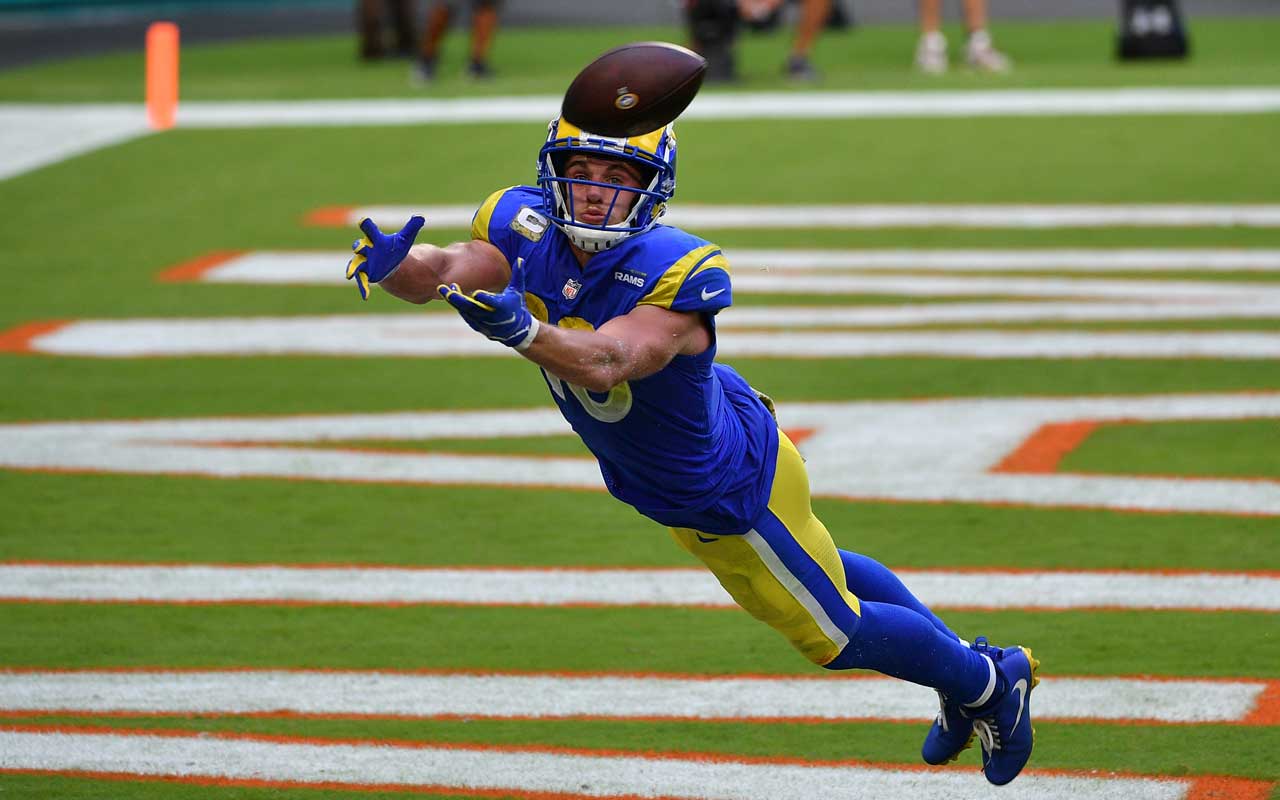 TE – Irv Smith jr $3,600 – We finally got the type of game we have been expecting from Irv for a while. Back after a 2 week absence he secured all 4 of his targets for 63 yards and a touchdown against the Bucs. Kyle Rudolph didn't play last weekend and he is likely to miss another game meaning Smith should see most, if not all, of the tight end targets. He draws a Chicago defence that has been vulnerable to tight ends this season ranking 29th against the position. That should have been worse last week with Jordan Akins inexplicably dropping a wide open touchdown. Another big day for Smith ahead hopefully.
FLEX – Cam Akers $6,600 – Yes I have talked about Cooper Kupp getting opportunities through the air earlier, but the Rams will not completely abandon the hot hand that is Cam Akers. 50 rushing attempts over the past 2 weeks would seem to suggest that finally the Rams have committed to their rookie to carry the backfield responsibilities for the team. A 171 yard rushing day is obviously going to be tough to repeat, but with involvement in the passing game as well, Akers provides a great value for a player with a high floor and potentially super high ceiling.
DEF – Miami Dolphins $3,700 – Either way you look at this matchup this has to be the selection if you don't mind paying for defence. The unit is strong and opportunistic, creating turnovers last week against the Chiefs and generally plays tough week in and week out. The team opposing them have been woefully bad on offence all year long. A no brainer.
Don't forget to watch the full10yards live stream podcast on Monday night when I along with the regular gang will discuss all things week 15 in the NFL.