Each week I'll bring you a mix of DFS value plays that I like for cash and tournament games. I won't be focusing too much on the elite plays such as Christian McCaffery, Lamar Jackson and Michael Thomas instead, I'll look for value in matchups that have the potential to be high scoring and return good points to dollar ratio. If we can find that we can open up our lineups to be built better. Through the season I'll also review my previous weeks plays so you can judge for yourself how good my takes are.
Tom Strachan
@BestBallUKNFL
Week 10 Review
With the chalk running backs failing and the mass of options for late swapping, week 10 was a weird slate. Cash games seemed to pay out around the 115-120 range and if you put up over 150 in tournaments you were making some tasty returns. All of my most successful lineups featured both Antonio Gibson (22.5pts) and Josh Reynolds (17.4pts), and they headlined the best picks of last week. Chase Claypool at 5800 smashed with 21.3 points and James Robinson came in low owned and with a very healthy 16.2 points. Sadly that's where the great plays ended. Jared Goff, Tua and DeShaun Watson all failed to hit 15 points. Mike Davis and Duke Johnson were by far the highest owned plays and neither did anything noteworthy, thankfully there's sometimes safety in numbers when so many others have played them. If you didn't play both in the same lineup and had a Gibson or Robinson, you would have been fine. Jalen Reagor was the victim of another horrible Eagles performance. Christian Kirk should have been in a great spot, unfortunately, Kyler Murray missed him on a couple of open passes and Kirk drew a pass interference call on what would have added some nice yardage. Rashad Higgins, for the second game in a row, played in a very windy game where the running game dominated. Tight end wasn't great, after four weeks in a row of great picks. Hockenson put up a terrible 3.3 points, possibly playing through an injury and Gerald Everett managed 4.7 for 3100. Unfortunately, he was tackled at the one-yard line and had a pass interference call in the end zone. That one could have boosted our lineups if it had come in. C'est la vie. Look around the industry and plenty of people had worse weeks than us, so chin up and let's go get it!
Plays so far (based on price to points ratios):
Great plays: 38
Good plays: 32
Bad plays: 25
Week 11 picks
Jameis Winston – $5900 Vs Atlanta Falcons (Saints -4.5 favourites)
Ladies and gentleman, welcome back into our lives the one and only member of the 30/30 club. The only quarterback known to have passed for 30 touchdowns and thrown for 30 interceptions in the same season. Jameis also holds the record for the most pick-sixes in a single season, with seven. If you weren't playing much fantasy last year you'd be forgiven for thinking this is a bad thing, but pick-sixes are great in fantasy as they get the offence straight back onto the field and push the game-script in a more attacking favour. 
I'm not suggesting this version of Winston will be the same as the one we saw last year. He will be playing behind possibly the best offensive line in football, against a poor Falcons defence who have managed just 14 sacks (24th best) and 7 interceptions (16th best). The Falcons remain the league leaders in points given up to the opposing quarterback. It may not feel great, but with some of the top tier quarterback options off the slate, Jameis is worth consideration for tournaments. 
Favourite Stat: Atlanta allows a league-high average of 4.9 passes of 20 yards or more, per game. 
Joe Burrow – $5500 Vs WFT (WFT favourites -1.5)
On the surface the Washington Football Team is a decent defence against quarterbacks but if we dig a bit deeper you find that they struggle against the ones who can pick up yards on the ground. So far this season they have given up 220 yards rushing and 4 rushing touchdowns to the position. Washington are one of the better teams in slot coverage, pushing quarterbacks to throw outside the numbers and further downfield. With those attributes and Joe Burrow's aggressive approach, I'm fine rolling him out in tournaments and feel like there are plenty of stacking opportunities here. 

Alex Smith – $5300 Vs Cincinnati Bengals (WFT -1.5 favourites)
I know folks, we're not off to a pretty start, but stay with me. Alex Smith probably sealed his comeback player of the year award with a down to the wire performance against the Lions. Throwing 38-55 for 390 yards. It was incredible to see after everything he has been through. Sadly the WFT couldn't pull off the win but Smith meets a great matchup for week 11. The Bengals are last in the league in pressure rate and are tied second last for sacks with 11. That's a meaningful stat for a quarterback some were worried would never play the game again. No matter where you look at the Cincinnati defence you can find good matchups for this game and in their last six games they've given up two or more touchdowns per game. I'll be considering this game for contrarian stacks, with Mclaurin, Gibson, McKissic all in play and Boyd and Higgins good for bring backs.
Favourite Stat: Cincinnati has not won on the road in 18 attempts. A current league-high.
Andy Dalton – $5300 Vs Minnesota Vikings (Vikings -7 favourites)
I deeply invested in this Cowboys offence through my off-season best ball drafts and it pains me to see where we've ended up. Andy Dalton has had a terrible time of things since becoming the starter, suffering a late hit that knocked him out of the game and then landing on the COVID list. This play is firmly in the contrarian GPP column and if I'm back here next week reviewing it as a bad play I'm sure plenty of people will ask why I bothered in the first place. But we're here to find value and there are reasons for the pick. The Vikings rank 23rd worst in fantasy points allowed to the quarterback and 29th worst to wide receivers. Nobody doubts the Cowboys have three of the most talented wide receivers in the game and if we're looking at their matchup as a positive we should give consideration to the man getting them the ball. The Cowboys offensive line is not in a great way but the Vikings pass rush is only averaging 1.6 sacks per game so we could be about to see Dalton's best game of the season so far. I wouldn't consider this play without at least one Dallas receiver stacked.
Other QB options I like with less value; Lamar Jackson Vs Ten ($7300), Justin Herbert Vs Jets ($6800), DeShaun Watson Vs NE ($6500).
Mike Davis – $6800 Vs Detroit Lions (Carolina -1.5 favourites)
As mentioned in our recap, Mike Davis's $4000 price tag last week led to him being the chalkiest of chalk. In the single entry $5 double up, Davis was 76.8% owned, in a field size of almost 7000 players. This week his price jumps significantly and with it should come more normal ownership. In his last four games, without CMC, Davis hasn't passed 55 rushing yards, in that time he's faced Tampa, New Orleans, Atlanta and Chicago. All good defences. Detroit however, is not. The Lions have the worst defence against the rush and also rank poorly against pass-catching running backs. People may be scared off Davis after a poor performance last week, but this matchup is worth coming back to.
Favourite Stat: Carolina lead the league in possessions scored on in the first half of games.
Antonio Gibson – $5800 Vs Washington Football Team (WFT -1.5 favourites)
Gibson won me a lot of money last week, proving to be a great differential at low ownership. I'd expect that to grow somewhat this week after his two-touchdown performance against the poor Lions. Taking his total to seven touchdowns for the season. The Bengals defence ranks 31st in yards per carry allowed to opposing backs, we have to look to target those kinds of matchups.
Favourite Stat: Gibson has caught all seven targets thrown his way by Alex Smith, going for 55 yards on them.
James Conner – $6600 Vs Jacksonville Jaguars (Steelers -9.5 favourites)
Another player I invested in heavily during best ball drafts over the summer with middling results so far. The last three weeks haven't gone well for the Pittsburgh rushing attack with just 138 yards on the ground for those games combined. Before that, the team was averaging 129.7 per game. This week Mike Tomlin was quoted by the team website as saying
"The biggest significant component or analysis or critique of the game (Vs Bengals) is our ineffective running game, and we've spent a lot of time thinking and talking about that in an effort to move forward."
He was also asked if Conner would continue to be the bell cow, which he confirmed would be the case. Fortunately for the Steelers, they catch another nice matchup against the Jaguars to try and iron out their problems. The Jaguars rank 27th against the position and allow an average of 20.44 points per game. After this, the Steelers face the Ravens on a short week, so it would make a lot of sense to try and iron this out now.
Favourite Stat: Even with the run game struggling Conner handled 15 of 18 running back touches last week.
D'andre Swift – $6400 Vs Carolina Panthers (Carolina -1.5 favourites)
The breakout had been coming and last week it finally arrived. Thanks to a Sunday report from NFL Network's Tom Pelliserro we had a small window to add Swift to our lineups, as he reported Swift would be the starting back. Sometimes these reports are less than reliable, but this one was on the money. Swift saw a season-high 21 touches going 149 total yards. Quietly Swift has risen to RB4 in pass-catching and averages a safe four targets per game. The Panthers rank 29th against pass-catching backs setting this game up for both backfields to have nice days. 
Favourite Stat: Despite only one game as the outright starter, Swift averages 14.5 points per game on the season. 
Swift was placed in the concussion protocol on Thursday, and it looks unlikely he will play. The coaching staff has shown more of a leaning to Adrian Peterson but with both him and Kerryon Johnson priced at $4000, I'll be keeping an eye on reports to see who might be the better play. This is the lowest price we can get for a running back, in a comfortable matchup, so if there's an obvious starter, I'll be on it. 
Damien Harris – $5700 Vs Houston Texans (Patriots -2.5 favourites)
Last week the Patriots found themselves, home underdogs, for the first time in decades and after running all over the Ravens, they find themselves road favourites against a bad Houston Texans defence. I won't blame people if they decide to take a long look at Duke Johnson on the other side of this matchup, but I didn't like it last week and it doesn't do it for me this week either. Harris may not be the three-down back we prefer in Draftkings PPR format, but he is a real early-down runner. Conveniently for him, the Houston Texans rank dead last in the league in yards given up per play on first down, with 5.7. We may not get reception points, but don't be surprised if Harris can reach the three-point bonus, for crossing 100 yards on the ground. He's gone over that mark in three of his six games this season.
Favourite Stat: Through nine games Houston has surrendered a league-high average of 154.3 yards per game to running backs.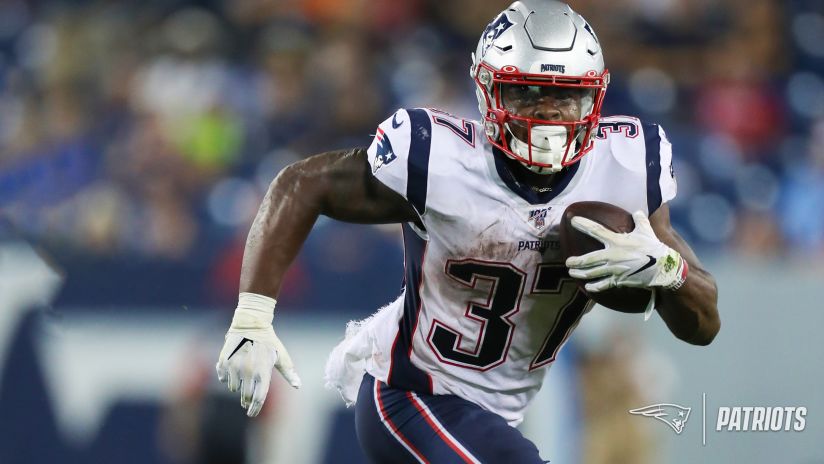 Salvon Ahmed – $4800 vs Denver Broncos (Miami -3.5 favourites)
This is about as deep as I've found value so far and if Drew Lock doesn't recover from injury it might become a nice play this week. Ahmed has largely come out of nowhere to force a dominating 76% of the running back workload last week. Playing on 44 snaps and handling 22 or 26 RB team touches, turning them into over 90 yards and a touchdown. This Denver defence isn't as sturdy as past iterations and in the last couple of weeks has given up 193 to Vegas running backs and 188 to the Chargers backs.
Will Fuller – $6200 Vs New England Patriots (Houston +2.5 underdogs)
Last week's heavy winds put an end to Fuller's streak of six consecutive games with a touchdown. In one of the more interesting matchups of the week, he gets a decent chance to bounce back against a Patriots defence that ranks 31st in yards per target (9.8). Before the game against the Ravens, the Patriots were allowing a league-high number of passes going 20+ yards. Having allowed four to Joe Flacco and the Jets.
Favourite Stat: Fuller has 8 20+ yard receptions on the season.
Justin Jefferson – $6000 Vs Dallas Cowboys (Vikings -7.5 favourites)
I also like Thielen in this spot but at 300 cheaper I'm leaning towards Jefferson. The Cowboys are the worst defence in the league against touchdown throws over 15+ yards. Meanwhile, Justin Jefferson is tied for second in the league with 14 receptions over 20+ yards. Averaging 18.1 yards per catch. That's the kind of statistical matchup I like to hone in on for a DFS play. I would expect this game to see a reasonable amount of DFS plays and you can make arguments for any number of stacks. Jefferson has four games over 100 yards and on Draftkings that will pick you up the three-point bonus that can make a huge difference.
Favourite Stat: Jefferson leads all rookie receivers with 42 receptions so far.
Curtis Samuel – $4700 Vs Detroit Lions (Carolina -1.5 favourites)
If you follow me on Twitter (shoutout to me, @bestballUKNFL), you'll no doubt be aware that I love Curtis Samuel. I walked away from virtually every draft this off-season picking him up in the double-digit rounds. The breakout hasn't truly happened but Samuel has shown he can be valuable without CMC playing. As well as his usage in the passing game Samuel has had at least three rushing attempts in seven of the last nine games. He represents a bit of a boom or bust option but for the reasons I like Mike Davis, I also love Curtis Samuel;
"The Lions have the worst defence against the rush and also rank poorly against pass-catching running backs."
Curtis Samuel isn't a running back but he's often schemed like one. For tournaments, if Teddy Bridgewater plays, I'll have a sprinkling of this play.
Favourite Stat: Samuel has as many catches on the year as Will Fuller & Adam Thielen (41).
Mark Andrews $4900 Vs Tennessee Titans (Ravens -6.5 favourites)
The Ravens have let down fantasy managers routinely this season and Mark Andrews hasn't lived up to his ADP so far. The matchup isn't one I'd normally go out of my way to target as the Titans have been the 20th worst team against the position. This play is more about the opportunity. The Ravens lost blocking tight end Nick Boyle to a season-ending knee injury against the Patriots and Andrews is currently the only tight end on the active roster. If the passing game is going to succeed with problems along the offensive line, it would make sense for short and safe passes to become a large part of it. Andrews is coming off a season-high seven receptions for an also season-high of 61 yards. Held without a touchdown since week 5, at some point, that streak will end and I want to be onboard when it does.
Favourite stat: In week 10 Andrews led the league in PPR points at the position.
Austin Hooper $3900 Vs Philadelphia Eagles (Eagles -3.5 favourites)
Hooper should fly under the radar slightly due to injuries and Cleveland's bad weather matchups in recent weeks. Before his injury, Hooper had started to show signs of life, with 23 targets over three games. He now faces a defence that has struggled to contain tight ends all season. Outside of the big names, even players like Nick Boyle, Logan Thomas and Dalton Schultz have enjoyed fantasy-relevant days in this matchup. The Eagles surrender 5.9 targets per game to the position, ranking 30th in the league.
Favourite stat: The Eagles allow the sixth-most fantasy points to the position.
Hayden Hurst – $4400 Vs New Orleans Saints (Saints -4.5 favourites)
Hurst has settled in nicely to his role with the Falcons, reaching 50 yards or more in five of his last six games. He's also been targeted at least seven times in the last three games. This game has a lot of fantasy potential and I'll be creating multiple versions of stacks with the relevant players in.
Favourite Stat: The Saints have allowed six different tight ends touchdowns and on average give up 5.3 receptions per game to the position.
DST of the week –
I don't normally settle on a defensive play of the week until Friday or Saturday when I've had more time to see how they affect my builds. Check out my Twitter @BestBallUKNFL where I'll post it as a pinned post, along with other thoughts related to the slate as we get closer to kick-off. Good luck everyone!